Clutch surveyed more than 300 small business owners to analyze how small businesses manage their finances.
Clutch, a leading B2B research, ratings and reviews firm in Washington, DC, recently published two survey reports analyzing the processes and resources small businesses use to accomplish their accounting.
Wanda Medina, the CEO and co-founder of MAVENTRI, helped Clutch analyze the data, providing expert commentary.
The first survey found that more than one-quarter of small businesses (27%) do not have a separate bank account for their business.
The mixing of business and personal finances can lead to serious consequences. In fact, the survey also found that this exact issue is the 2nd most common financial challenge faced by small businesses.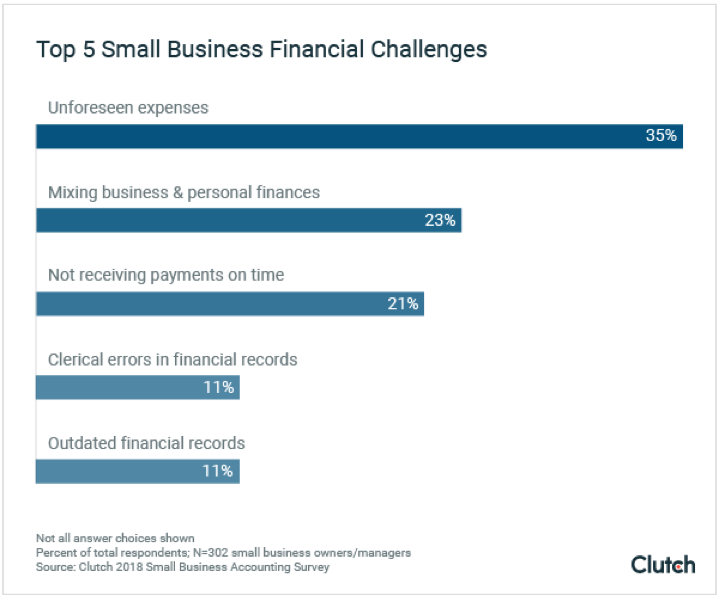 Medina explained how this mixing of funds often leads to issues for small businesses.
"This is something that we always try to make sure our clients no longer do…commingling books. It's probably one of the biggest issues that we see when they are suddenly running out of cash or audited by the IRS or state" Medina said.
The second installment in the survey series focused on the resources small businesses use for accounting. Nearly half of small businesses (45%) say they employ neither an accountant nor a bookkeeper.
Skimping on staff can cause small businesses' accounting to suffer.
"Small business owners wear a lot of hats and usually updating the books goes to the bottom of the list," Medina said. "They'll try to piece it together when they are already in a financial bind. It's hard to get out of it quickly once you hit the bottom of the barrel because you've waited to long."
Medina explained that most small businesses should have at least a bookkeeper.
"It doesn't matter how small a company is, if you already have two employees, hire a bookkeeper," she said. "You can outsource a bookkeeper at a very low rate and it's going to help tremendously."
Outsourcing can be especially beneficial for small businesses, given its lower cost and greater stability.
"If you find a great bookkeeping firm that has the ability to meet every now and then, that's the best relationship because you don't have to worry about adding the cost of an internal bookkeeper and you'll have access to different bookkeeping and accounting experts," Medina said. "You don't have the issues of someone leaving suddenly and not having anyone trained to cover for them."

"With outsourcing, you have two or three people working on the same account. You're never going to have that feeling of being abandoned. It gives continuity for the businesses."